What to use a notebook for - What to do with notebooks
We have been writing in notebooks for thousands of years and they have been the humble foundation of many aspects of human culture from science to song-writing to travel journaling.
Notebooks have been traced back to 55AD in China and 10th century Japan in the Far East and in the West there are examples of notebooks made during the Renaissance which have deep roots in the world as we know it today. Notebooks were the original records for iconic literature, inventions and philosophies, so it's no wonder they are still so popular today, essential as a planner, a dedicated space for endless to-do lists and just to capture one's thoughts that would otherwise be lost.
I wonder why the computer hasn't taken over but I think a notebook is a precious object - a collection of thoughts, dreams, ideas, sketches and doodles. It's portable and flexible too - a page of lists can be ripped out and tucked in a pocket. There is research that suggests that keeping a notebook is like having a dialogue with oneself and actually improves creativity with the opportunity to expand ideas. Regularly writing and maybe capturing fleeting thoughts has healing possibilities as a therapeutic activity. Recording a personal and reflective narrative is also beneficial in managing stress and contributes to a sense of happiness and well-being.
Famous Notebooks
Marie Curie
Old notebooks can serve as a glimpse back into the past (and not only in a personal sense, like when you read your diary from your teenage years and laugh at the awkwardness) but in a wider sense where a diary can capture the first-hand experience of famous events as well as significant discoveries like Marie Curie's studies of radiation. It will be thousands of years until Marie Curie's diaries can be read without protective gear due to the vast amounts of radiation on her notes and journals and especially in the binding but they are still there, held in lead-lined boxes in the National Library of France and the Wellcome Library in the UK for reference from one of the most influential scientists to ever have existed.
Frida Kahlo
Frida Kahlo's diary was composed over the last decade of her life and was filled with magical, energetic paintings and drawings that expressed her intense emotions and personal feelings throughout her life as well as poetry detailing her stormy relationships - a sort of a beautiful yet tragic notebook and a sketchbook combined to provide a catharsis for her turbulent emotions and her problems with her health.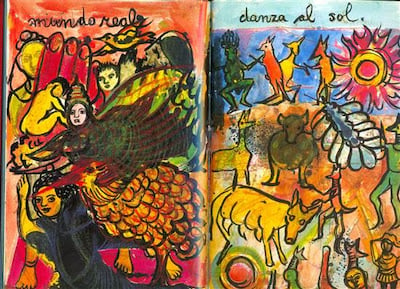 Leonardo Da Vinci
Leonardo Da Vinci was a prolific writer - when he died in 1519 he left pages and pages totalling 6000 notebooks! Amongst his notes about engineering - such as building the first flying machine - he also wrote shopping lists, smutty jokes and displayed a keen liking for pink tights. He not only describes the movements of birds and of water but also his troubled emotions and his ambitious hopes for his career. He wrote his thoughts from right to left - instead of left to right - perhaps as a left-handed person he didn't want to smudge the ink as his ideas flowed - he would quickly 'jump' from one subject to another.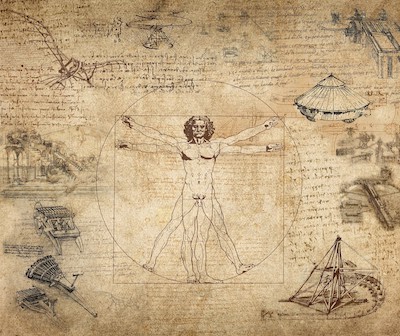 Beatrix Potter
One of our best-loved children's authors - famous for her beautifully illustrated and delightful tales of Peter Rabbit, Jemima Puddleduck and Mrs Tiggywinkle - Beatrix Potter also kept notebooks throughout her life where she would write about her observations on nature and philosophy as well as sketches and notes about gardening. A selection of her entries from her notebooks which run over 200,000 words has been made into a book - 'Beatrix Potter's Journal' and published by Warne.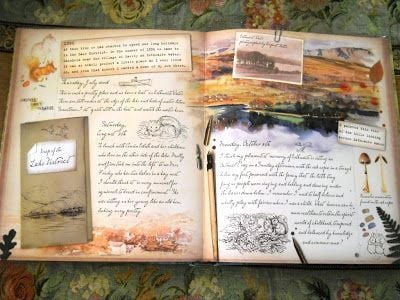 10 inspirational Quotes about Notebooks
"Keeping a journal of what's going on in your life is a good way to help you distill what's important and what's not" - Martina Navratilova
"A personal journal is an ideal environment in which to become. It is a perfect place for you to think, feel, discover, expand, remember, and dream" - Brad Wilcox
"I find the experience of keeping a journal much more creative on paper than on a computer" - Keri Smith
"Fill your paper with the breathings of your heart" - William Wordsworth
"I've always written. There's a journal which I kept from about 9 years old" - Maya Angelou
"I am anxious, and it soothes me to express myself here. It is like whispering to one's self and listening at the same time" — Mina Murray in her journal in Dracula by Bram Stoker
"I guess in my diary I'm not afraid to be boring. It's not my job to entertain anyone in my diary" — David Sedaris
"I belong to this notebook and this pencil" - Ernest Hemingway
"Your subconscious mind is trying to help you all the time. That's why I keep a journal - not for chatter but for mostly the images that flow into the mind or little ideas" - Jim Harrison
"In the journal I do not just express myself more openly than I could to any person; I create myself" - Susan Sontag
10 reasons to have a notebook always by your side:
Organisation - Something we can all agree on is life can get a bit hectic and sometimes it's hard to unite all aspects of life; along with finding the time for ourselves! It can all bundle into an overwhelming mental beehive of "I've got to do this, and this! Oh gosh AND this". Having a dedicated space where you can lay all of this out in one area and organise it into a visible plan helps you climb on top of everything and perhaps prioritise - a notebook is a perfect way to do this, whether that's through a to-do list, a timetable of your week or a monthly schedule.
Journaling/diary - Studies have shown how beneficial keeping a diary is for your mental health. It's great for reflection, stress relief, promoting mindfulness and improving memory! What's more is that it's always entertaining to read back old diaries to recall things that would have otherwise been completely forgotten. As Oscar Wilde said: "I never travel without my diary. One should always have something sensational to read in the train."
Education - Whether you are a university or college student or learning a language from home, a notebook is an absolute must to keep all your notes together and they make it easier to study and revise since all the content is in one place. Using a notebook also means you can customise your notetaking to aid in your learning like drawing mind-maps or doodles associated with the content to make learning more fun and personalised for you!
Writing down dreams - Have you ever woken up from a wild dream thinking "that was so crazy, I can't wait to tell someone about that" and then by the time you have a coffee in your hand you've completely forgotten it? Keeping a dream journal and scribbling the night's events down as soon as you wake up is a great tool for not only remembering funny and 'mad' dreams but also to help you during your waking life. Dreams can often be hints from our subconscious into fears, loves, unprocessed emotion. Paying attention, and especially when patterns form in dreams, unveils important details that our subconscious picks up to help us pinpoint what's going on in our lives. For example, dreaming of being in a choppy sea may symbolise feelings of being overwhelmed, telling us to relax and take a step back from things causing stress (or that you fell asleep watching Titanic).
Anything and everything - Your notebook can be used for a variety of things: passwords, recipes, plans for world domination, to-do lists, important dates to remember. They can become the paper equivalent to that one chaotic draw we all have, a jumble of miscellaneous things that you absolutely need!
Travel Journal - Even though many of us won't be doing much traveling at the moment, I think it's made us realise how valuable our time on holiday is and keeping a travel journal logging all the notable moments, sights and places that you want to freshly remember is a lovely way to really appreciate it. It can even be made into a scrapbook of sorts with cut out photos, leaflets and postcards from your trip!
Planning - When you have a big project coming up it can be quite overwhelming to plan all in your head, so having a notebook where you can lay it out in a step-by-step plan is key for keeping your head above water, whether its planning the big family Christmas meal, a work project or buying a house. It's also brilliantly satisfying to look back at all the things you've accomplished throughout the task and is great for goal tracking as you can visually see whether you're on course.
Creative writing - Writing is a great creative outlet and has many benefits like improving vocabulary and communication skills, mental health and stress levels. You don't have to be Shakespeare to write, just putting pen to paper and seeing what flows out of your imagination is good enough! You could have notebooks specially dedicated to your creative endeavours and watch them fill up with poems, novels, short stories, plays, whatever you want. Who knows, you could end up writing a masterpiece!
Setting daily intentions - Setting goals is wonderful, whatever they may be. Great! Now to set your intentions. Goal setting is important, but they focus more on what you don't have, rather than what you do have at the moment! Setting intentions focuses your brain to your goals and the actions you will take everyday to accomplish them and the steps that are within your power at your current position as well as shifting your brain to think about the positives in your abilities, rather than the perceived inabilities. For example: "Today I intend to drink lots of water to energise my body" or "I intend to look for positive sides of negative situations''. These are things within your current power that you can do to further your goal, whether its being healthier, thinking more positively or raising your productivity to achieve your goal of a promotion.
Gratitude notebook - Keeping a journal of all you are thankful for helps your brain focus on the positives in life, overall making you happier and more present in the moment and keeping you focused on everything you have instead of the things you lack. This is a great tool to have alongside setting goals, as it prevents you from promising yourself happiness when your goal is achieved as this mindset can result in a constant feeling of dissatisfaction. However, making sure you're not taking anything for granted keeps you feeling positive about the situation you're currently in.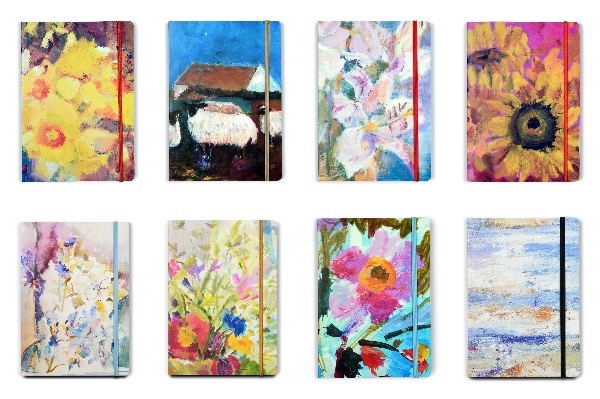 You may not reach the 200,000 words written by Beatrix Potter or the 6,000 notebooks of Leonardo Da Vinci but the artistic notebooks at judigloverart.com are printed in the UK with covers inspired by nature and flowers to make a calming place to start scibbling and letting ideas flow. Each notebook has 120 pages and includes free UK mainland delivery, hopefully this has provided you with ideas and inspiration on what to use a notebook for.
Notebooks Available
Summer Flowers An inspiring and decorative notebook made from an original watercolour painting of summer flowers and features a coordinating gold enclosure.
Blue Hydrangea This pretty notebook features a dreamy palette of soft mauves and blues and is made from an original watercolour painting of a dried hydrangea head with a coordinating turquoise blue enclosure.
St Columba's Bay This artistic notebook features scenes from the sea and sky and is made from an original painting of St Columba's bay on the Isle of Iona with a coordinating navy blue enclosure.
Wildflowers Colourful and vibrant, this pretty notebook is made from a painting of wildflowers with an exciting and dramatic design and a pale blue enclosure to inspire ideas and projects or as an extra-special gift
Sunflowers This summery, beautiful notebook has bright, vibrant sunflowers on a pink background with an orange enclosure
Spring Daffodils A lovely design with sunshine yellow in this floral notebook from a painting of beautiful Spring Daffodils with a bright orange enclosure
Sheep Under the Stars A notebook set in the countryside made from an original painting of a little group of sheep in a field lit by the moon in a deep-blue sky. An extra special gift for you or someone else this cute notebook has a coordinating straw-coloured enclosure
Pink Lilies This pretty notebook has pink and mauve tones with accents of soft blues, created from an original painting of beautiful lilies, it has a magenta-pink elastic enclosure