Welcome to the colourful world of Judi Glover Art, an enchanting brand that celebrates beautiful colours with a love of nature and the countryside. Drawing and painting from nature has always been a wonderful inspiration from being a small child and it started when I spent my early years amongst the vibrant colours and light of Africa when my parents went to work there for the British Consulate. My passion for vibrant colours, wonderful light and the beauty of nature was born and there never was a time when I wasn't creating things whether in paint, fabrics or whatever came to hand.
Later, living in Greece, surrounded by beautiful exotic flowers, gorgeous Mediterranean views, celestial blue seas and pure joie de vivre were a huge influence. Back in the UK a degree in Fine Art and Embroidery led me to study the paintings of Monet, Matisse, Gauguin and Chagall and the decorative look of my work is underpinned by a deep understanding of the theory and the magic of colour. Today I have a studio based between Hampshire and Wiltshire, on the edge of the New Forest and inspiration is everywhere from a handful of fresh garden flowers to a meadow filled with buttercups and sheep.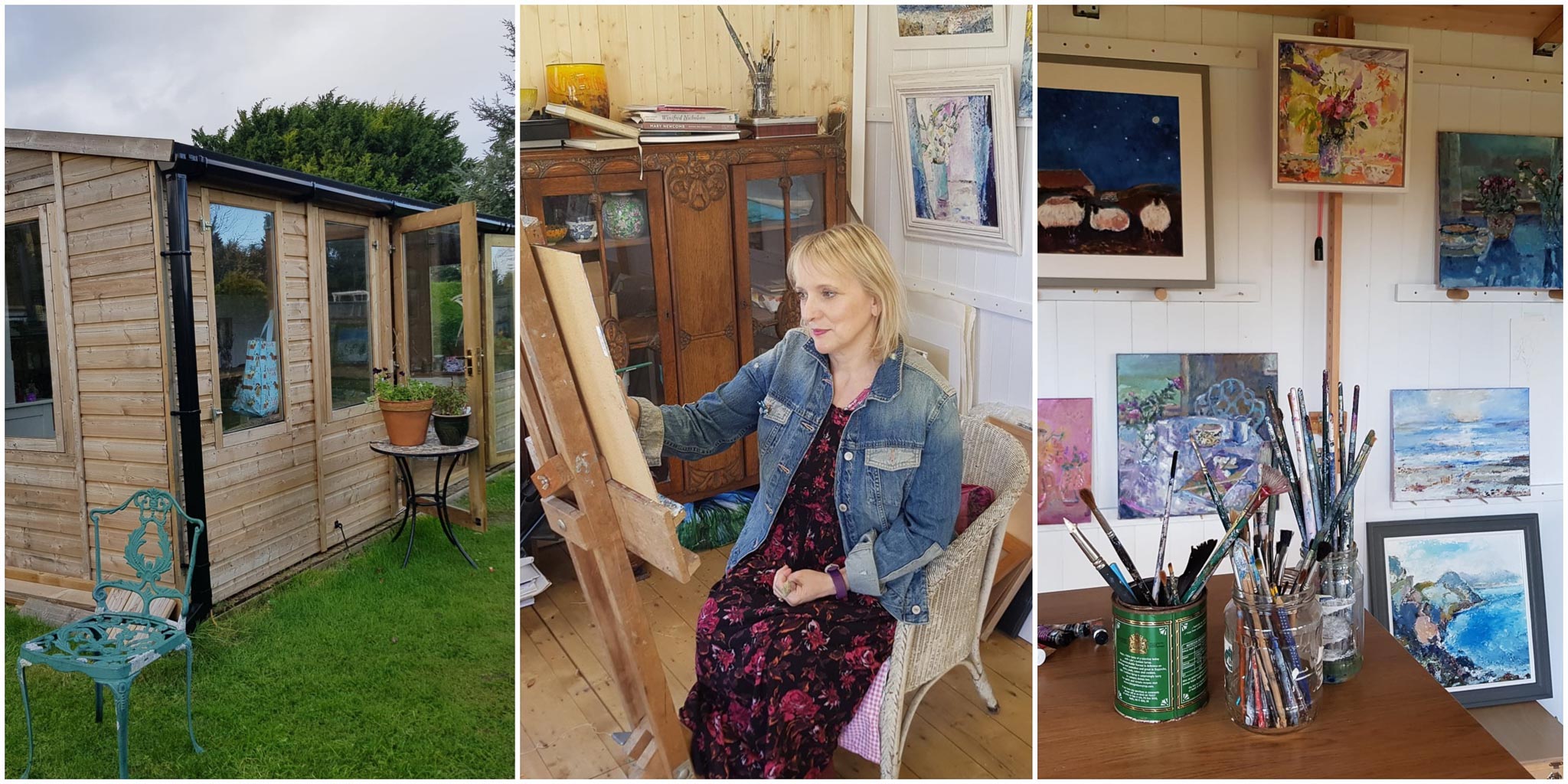 My paintings are a reflection of the delight in the simple beauty of flowers or rituals of ordinary life in the UK countryside. Creating images that are a celebration of a moment in time inspired me to make the art cards, initially motivated by printing one to give my Mum a unique birthday card. She loved the original and I decided to make more cards and showed them in the local village shop for feedback before making them available online. The village shop continues to be a great source of feedback and the collection has now grown to include fine art prints, canvas prints and notebooks that are all made from original artwork.
The cards are printed on high quality GSM board from sustainable sources and will keep for a very long time. They are printed in the UK by a Fine Art Trade Guild accredited printer. This trade Guild sets standards for print publishing in order to protect the interests of the public and maintain confidence in the publishing of fine art. The cards are printed, trimmed, creased and finished by hand ensuring a beautiful completed item. The cards and sets of greetings cards are all blank inside and provided with envelopes. Each card is packaged in bio-based film which is 100% recyclable.

Printed on the fine quality cotton paper and canvas the collection of prints are created from original fine art paintings. The prints are giclee printed which means archival pigments are used and beautifully reproduced by a print company that specialise in working with professional artists. The company have 14 years experience and printing, framing and glass cutting are all done by hand on the premises. By working closely with the printer I am able to collaborate with them to ensure that the final print production is exactly how I would like the prints to be received. Each art print available online has been colour matched to the original artwork with a number of test prints and reprints until a high quality reproduction is achieved.
This high print quality means that each expressive brushstroke laden with colour is perfectly shown on each print. The prints add an artistic flair to the home and there is a range of subjects to choose from: Coastal, Floral, Landscape, Seascape and Still Life. Colourful floral prints mean you can enjoy bright blooms all year round, Still Life can bring a calm element while Coastal, Landscapes and Seascapes can instantly transport us to another place.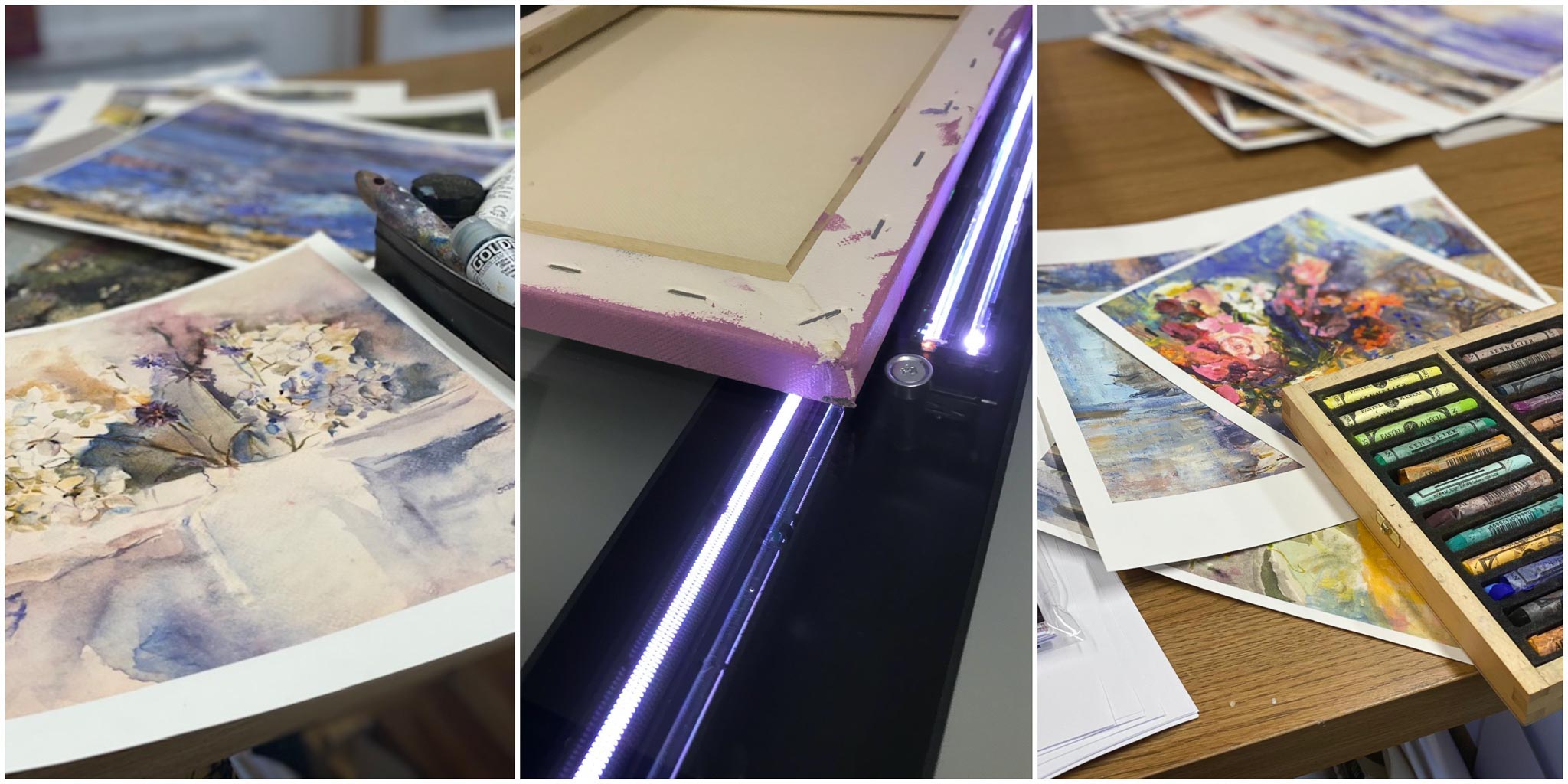 A notebook or journal is a perfect place to gather and keep thoughts, plans and ideas. I would never be without one and the collection of A5 notebooks with 120 high quality 100 GSM pages are a really handy size to carry about easily fitting into a handbag or laptop case. The set of lined notebooks are mainly in pastel colours to create a trusted place to write inspiration where precious creativity is recorded on paper never to be forgotten. The collection of artistic notebooks have attractive contrasting inner pages at the front and back and a matching elastic closure with floral designs inspired by Hydrangeas and Summer Flowers. So whether it's a shopping list, novel or a plan for your next holiday a notebook is a must-have and makes a wonderful gift.