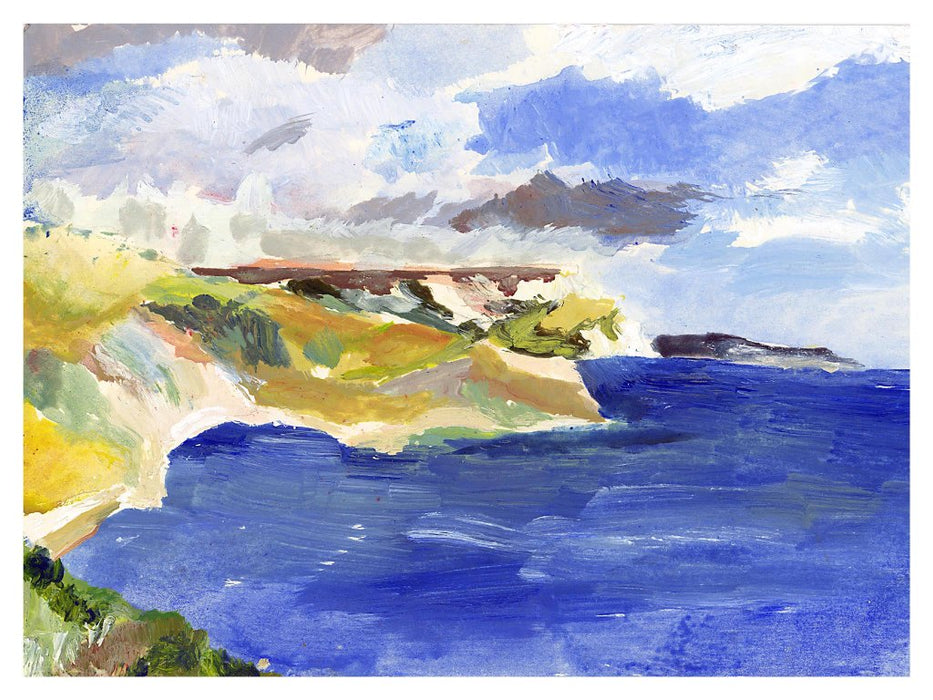 A coastal print of the Jurassic Coast in Dorset. Originally painted on a paper ground using gouache paints.
This print of the Unesco heritage Jurassic coast shows a windswept land of majestic white cliffs which drop down to a deep, ultramarine blue sea. A beautiful, dramatic sky shows clouds tumbling by and is reflected in a lively sea.
Print Quality
All prints are made from a high quality 280 GSM giclee paper made from cotton which is acid-free and Archival and Museum quality with a soft textured surface.
Each print is made to order and handprinted in the UK with free trackable delivery and includes an A5 Certificate of Authenticity, signed by Judi Glover with the artwork title, original medium and copyright date.
We hope you will be pleased with your purchase. Should you wish to return any item we will be happy to fully refund or exchange a product provided if it is undamaged. Our refunds and returns policy lasts 60 days.
Framing
Each framed print comes with a 15mm wide frame made from responsibly sourced solid wood in your chosen colour. A hanging plate is attached so your print is ready to hang from delivery.
A 50mm high quality mount in artic white is also included along with protective glass to ensure your print remains high quality.
All framing is completed by hand in the UK.
Shipping
Shipping is free for all prints. Upon making your order you will receive an order confirmation by email along with your receipt.
All items are handmade to deliver however for a print you can expect this to be delivered within 3-4 working days. Prints are posted in sturdy eco-friendly cardboard tubes.
Framed prints will take a little longer and should be with you in 5-6 working days. Framed prints are double-wrapped in twin-board card with an outer cardboard sleeve - all 100% recyclable and shrink-wrapped with blue protective wraps on corners (shrink-wrapping is far less demanding on the environment than bubblewrap).
Once your item is ready to send you will receive a second email which will include your tracking number so you can check the status and add any special delivery instructions. Your returns form is also included as an attachment in this email.